How to Keep your Clients Happy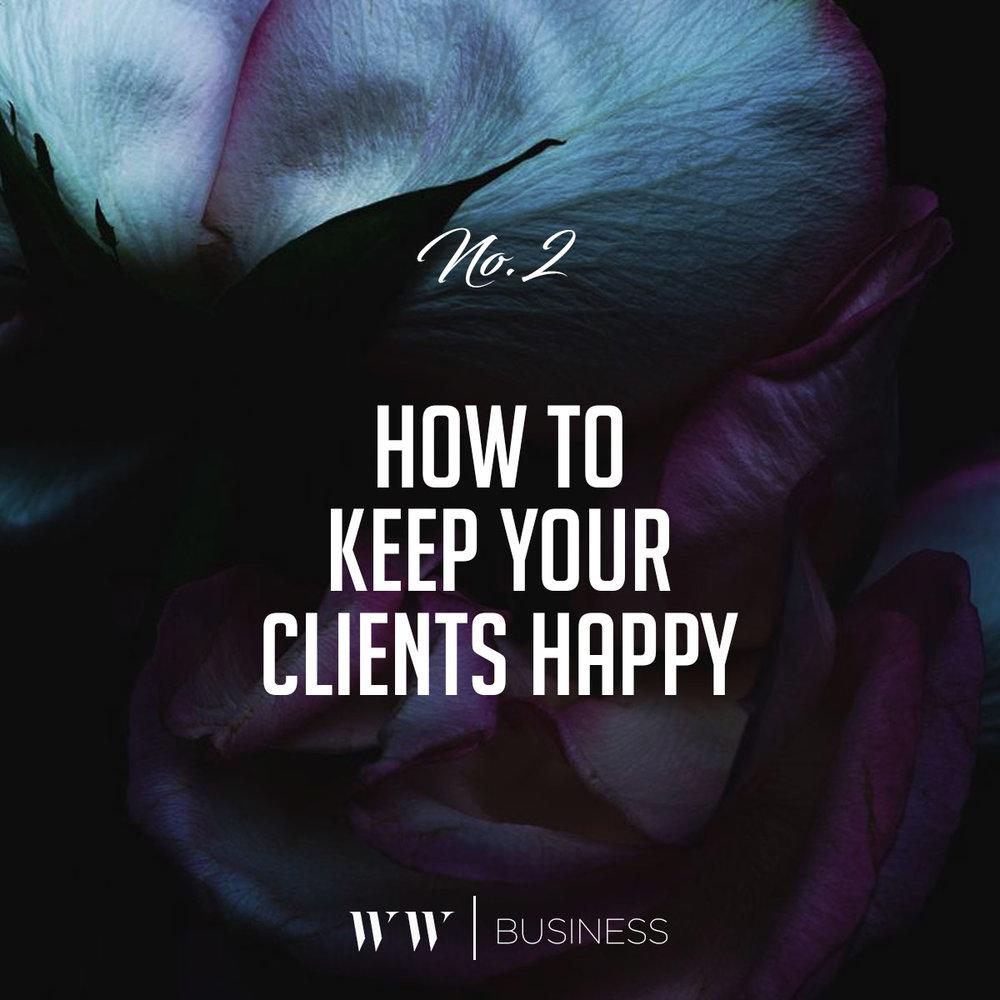 It is difficult to run a business while managing client expectations and ensuring everyone is happy. But it can be done if you follow a few guidelines before ever meeting your client and it starts with your business basics.
Managing Business Basics
01 Proposal: Don't over promise. We are all afraid of loosing clients. But by undercutting yourself and promising short turn-arounds you will end up burnt-out and frustrated.
02 Have a solid contract: I will write another post showing you the contract we use later but for now to make sure your client is happy, start by outlining the boundaries in the contract. Include the scope of work with number of designs they will get and the number of edits. List your hourly rate for requests that go beyond what is outlined, the time line and what happens if the project goes over due to untimely client feedback. THAT BEING SAID. In order to keep a client really happy there are times when we will do quick revisions past they final as long as they are within reason.
Managing the Project / Client
01 Be Flexible: There are the clients who try to get the most out of your time and kindness that leave you feeling used.Then there are the clients who are easier to work with. So if giving an extra proof beyond the scope of work helps cement the relationship, do it.
02 Become an ambassador for their brand: This is easy for us to do since we only take clients who are a fit for our skills and personal beliefs. Yes that's rights my beliefs. We are enthusiastic about the work and love spreading the word via our social channels.
03 Ask lots of questions: For many people this process is new and they wont know what type of information to offer you. So create a client questionnaire to get the process started.
04 Create a mood board: After you get the questionnaire back and along with the project brief, add a mood board to show examples of what the brand can look like. This can include colors, fonts, layouts and photography styles. Most clients are visual.
05 Make yourself available and be clear: At the very least pick-up the phone when they call and at the most arrange weekly updates if the project is a long one. You can give as much as a daily email that reminds your point of contact what is needed from them to keep the project on schedule. Never, I repeat, Never go radio silent.
06 Don't Miss a Deadline: Be honest with yourself and your client. If you are setting the deadline then don't miss it. If an emergency should arise let the client know immediately.
07 Learn to say no: Your clients come to you because they trust your opinion. If they have a request that you feel is not on brand or just in bad taste, say so or no, but explain why and give alternatives.
08 Offer added value: It is as simple as managing the project from idea to print and not handing over final files for them to have to find a printer or not knowing how to implement what you have given them. Act like an employee and they will see you as part of the team. You are hired to design but you are actually filling bigger business needs so make sure to tap into that.
09 Use a project management app.: Project management apps like Slack, Asana and Basecamp allow you to manage long-term projects in one place, eliminate the email clutter and manage proofs. Many companies already use one of these services so it is as easy as them just starting a new project for you.
Do you have other suggestions you have found work for your team? Let me know.
01.